Well hello, my awesome friends! Thanks for tuning in to another exciting episode of The Creative Marketing Zone Podcast!
I am your host and chief creative officer, Eric, and this week I am sharing my exclusive 5 Step Cheat Sheet to Generate Leads for your Business Using Instagram!
I am excited to share these tips because I have used these for clients and my own business to generate leads, and they work!
So, I thought, why not put together an episode that talks about these tips to generate leads.
And speaking of putting something together, I also have an exclusive free resource guide that goes along with this awesome episode entitled, 👉 InstaGrowth – How to Skyrocket Your Brand on Instagram 👈
Be sure to grab your free copy! 👆👆👆
Let's dive into the tips!
Tune in to the Audio show notes Below
Also Available to Listen/Download in iTunes | Google Play Store | Stitcher Radio
First and foremost, before we get started, make sure you have a business profile set up on your Instagram account. This is free under the settings tab where it will ask you to convert your personal profile to a business account.
With a business account, you can view some cool stats from Instagram – like where your followers are located, the best time of day to post, how many clicks on your link in your bio and so much more. You can also run ads using a business account, which I will cover one specific ad you should be running to generate leads later.
Second, make sure you are using a picture of you and not a faceless logo.
Why?
Well for starters, chances are if you are listening to this episode then you are not running a name brand everyone recognizes.
Therefore, it is best to start by having your target audience connect with a human he or she can know, like and trust - not a faceless logo.
Alright, let's go ahead and start from the top, with tip number one where it pays to:
Be Curious!
Many people overlook their bio.
This is the one place you have to include a link to a lead generation offer, yet many people miss this on a business account.
What they end up doing is talking about what they do and not why they do it, which is what Simon Sinek preaches.
Now, you are limited to 150 characters, so you have to be creative here with your wording. However, this is a good thing as it forces you to tighten up your copy and be curious to get people to click on the link in your bio.
So, instead of talking about what you do, like what everyone else does, instead have a quick blurb about why you do what you do, then talk briefly about the how and the what and conclude with a specific call to action.
This is a topic I address in my freebie resource guide below 👇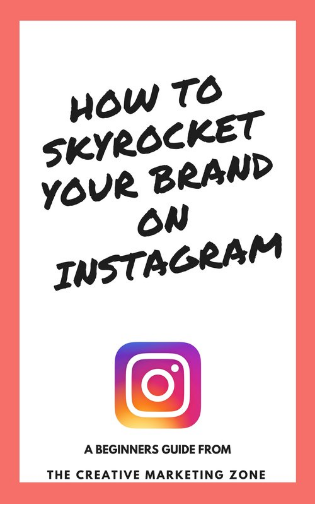 The Top Tips You Need to Achieve InstaGrowth
Success on Instagram
Now, one of the ways to be creative when writing out your bio is to embrace emojis to a certain extent. I mean, you don't want to flood your bio with so many emoji's that it takes away from what you want to convey. 😻🙀👩‍🚒🦊🌞🍩🎮🏎🛎📣
You can also break up your bio with spacing. This is something I currently do, which helps with the user experience, so it doesn't look like everything is all jumbled as one paragraph.
You can also ask questions to your target audience that gets them curious about how you can help them.
What's a good example here?
Amy Porterfield, who is well known in the online marketing circles, asks the curious questions up front to generate leads for her business.
Remember, Instagram is a platform where you can be human, which drives authentic engagement with your target audience. And having a good bio can help you out from the get-go to attract the right audience of people who are curious enough to click on your link.
Which brings me to the 2nd creative way to generate leads from Instagram, and that is
Having a Killer Offer
I come from a sales background. And for a while, it took me some time to figure out the gambit of how to generate leads from social media.
This was especially true about four or five years ago when social media was still looked at by many as a place to watch cat and dog videos for laughs. Remember those days? Keyboard cat anyone?
Anyways, social media has come a long way in recent years, and people like to do business with people they know, like and trust online.
And having that killer offer to give away is your chance to shine in establishing the know, like, and trust factor with your target audience.
So how do you create that killer offer to start attracting leads for your business?
Well, the answer depends on your business and your sales process.
I always like to think of this as working backwards from the sale in which you map out all the steps involved with a customer purchasing your product.
You then break it down to the simplest step your cold target audience can take to get their feet wet with your business.
And by cold audience, I mean people who have never met or heard of you before, but they become curious when they read your bio and are directed to that call to action link.
Marketers typically refer to this killer offer as a gated asset in which you provide something of value in return for some information, like a name and an email address.
And the cool part about this is that you can be as creative as you want with this gated asset. Meaning you can create a:
💥Resource guide
💥Cheat Sheet
💥Checklist
💥Assessment (this one works great for health and fitness trainers)
💥Insiders Secret Sauce
💥Master Class Workshop that is free to attend
💥Style Tips
You name it; you can be creative with it.
I've developed so many of these for businesses over the years, and recently I have been using a free tool (they do have a paid premium version) – Canva - to create these pdf gated assets and linking them in the bios.
I typically create the gated asset first, no more than a few pages long, and then create a landing page using LeadPages ($37 per month) to sync up the pdf once someone downloads the guide.
I also have my email CRM platform integrated with the Leadpages account so that when someone downloads the gated asset, then he or she automatically gets entered into an automated nurturing email marketing campaign that moves them through the funnel of your paid products or services.
Being creative here is vital, but you also want to make sure that you are always thinking from the user aspect, especially if someone is visiting you for the first time and becomes curious about your killer offer.
Offering an 85-page pdf ebook for free is not the way to go. Creating snackable pieces of gated content, however, is.
You now have your bio and your killer offer in check, how do you drive awareness on your Instagram platform to encourage clicks on your bio link?
This takes me to tip number 3
Developing Good Content
It is one thing to have a good bio and a killer offer, but if you have very little or no activity on your Instagram account, then you're not going to get noticed, unless you run ads, which I will cover later.
This is where you need to be creative, strategic, and extremely tactical here. I also cover this in my freebie resource guide on How to Skyrocket Your Brand on Instagram.
Once you have a gated asset ready to promote, you will want to post an image that addresses a pain point you solve and leads the user to click on the link in your bio for more info.
You can also do a short video, which gets better engagement, for 60 seconds or less and share stories through Instagram Stories.
One thing to note here - you must be very selective when doing these posts. Meaning, you cannot be doing these promotional posts or stories all the time. Otherwise, your target audience will tune you out.
A good rule of thumb is to follow an 80/20 rule where 80% of your content is more about engaging, educating and entertaining your audience – such as behind the scenes with your business, and the remaining 20% can be direct and promotional.
I have a home remodeling client for instance who does an excellent job with this. He has behind the scenes short videos in which he walks around a home he is about to flip; then he shows the progress of it all as it is taking place.
His target audience tends to ask questions in the comments saying, I want to see more, and this coming along great – I can't wait to see the final product!
Then intermittently, he will have some promotional type posts that are more direct. One of which actually turned into a $50k kitchen renovation job without spending money on ads on Instagram - how cool is that?
The other thing to note here is that you need to be using appropriate hashtags for your posts to help you get found. Not random hashtags, like #livingthedream if your business has nothing to do with this hashtag.
For instance, with the home remodeler client I mentioned earlier, we typically use hashtags that are geographically focused since he is in the Washington DC metro area. We will use ones like #DChome #DCrealestate or #DCrealtor.
And we no longer use the max amount of hashtags for a post, which is 30.
We try to stay within the 9-11 range either at the bottom of the post or as a comment to avoid looking like we are spammy with our content.
This approach is also helpful to avoid being shadowbanned by Instagram. If your account is shadowbanned, then Instagram will not show your account to any of the hashtags you specify, and your overall engagement will go down.
I actually share a cool tool in my free resource guide that will provide you with recommended hashtags to use with your post 👇
The Top Tips You Need to Achieve InstaGrowthSuccess on Instagram
One thing to also note here is that once you get to 10k followers, Instagram will grant you access to share links to your Instagram Stories. This is another good way to drive traffic to your gated asset by telling your audience to swipe up on your stories for more information.
And using emoji's, hashtags, and the location tag on your stories can help your story get more engagement as well, whether it is text or video based.
Another good tactic is to ask questions with your target audience to drive up engagement. You can even tag, or @mention the users you want to alert to encourage them to drop a comment.
I did this with a recent post on my personal Instagram and it worked. I simply asked the question in my image copy - "What's one thing you are excited about working on this week?" And then I tagged/@mentioned the users I wanted to solicit comments from in the image and the description copy.
The trick when using this tactic above is making sure you reply to the comments right away, or within an hour. The more responsive you are with comments the more likely you are to show up in more of your followers feeds, or in the explore tab when people are searching for content.
Also, keep in mind that the more engagement you get from your posts in your feed (e.g., likes and comments) the more likely you are to be featured as a Top 9 post when someone searches a hashtag you used within your content. This will also drive up your engagement!
Now the other thing you want to do to get more attention is to begin tip number 4, and that is:
Building Relationships With Influencers & Your Target Audience
Having a good bio, killer offer and content is critical, but you also need to think about how you can connect with your target audience without spamming them.
Some people will do what is called a follow and unfollow method. I don't recommend this approach since your target audience will catch on to this and will either not follow you back, or be upset when you do unfollow them when they start following you.
Instead, I recommend taking a more methodical approach.
What do I mean by methodical?
Well, if you are going directly after your followers, then I would recommend searching for what your target audience would be interested in.
For example, if you sell men's custom clothing, then perhaps your target audience would be interested in GQ, or maybe even a competitor, like Nordstrom.
From here you can look at some of their most recent posts and go through the accounts of people who are liking or commenting on the posts.
You can view their profiles and decide from here if you want to follow, like a few photos, or drop a comment on one of their recent photos.
If you are focused on attracting clients in a certain geographic region, then you can do a hashtag search of let's say, #DCfashion, and from here you can do the same thing of looking at the top 9 posts for the day and seeing who is liking and commenting on those posts. Chances are these folks are within your target audience.
Now, a couple of words of caution. You don't want to start liking more than three to five photos on their account. Otherwise, you will come across as stalkerish (I know this is not a word).
And if you do drop a comment, make sure you drop a comment that is worth having them respond back to.
For instance, instead of saying, "awesome photo", you can have a full sentence, like "awesome photo, I like what you got going on here. How did you come up with this?" or something along those lines.
This gets the conversation started, and if there is a need to carry the conversation further in which personal info needs to be shared, then you can let them know that you sent them a Direct Message (DM).
Regarding the influencer route. You also always want to be thinking of who would be an influencer, someone who has access to your target audience, and someone who is already getting good engagement from them.
Of course, you want to be realistic with whom you are reaching out to. If you are just starting out and you have a few hundred followers, then connecting with a massive influencer with millions of followers is out the question.
Instead, start building relationships with people who are at a similar, or slightly higher level regarding following and engagement, then eventually work your way up from there. These are called, "micro influencers."
I use this approach with my podcast in which I reach out to marketers who are connected to my target audience and I ask if they would like to be interviewed on my show.
Nine times out 10 I get a yes when I explain everything to them in the DM's, and eventually, I get them on the show.
And when the show goes live, guess what? They share with their target audience, and so do I? It is an excellent free quid pro quo form of relationship building and free exposure for the both of us.
Did you know?
So, what is the fifth way to drive leads? Well this is one that has taken off for me as of late, and that is to:
Run an Instagram Lead Generation Ad!
If you are looking for quick leads and you have money in your budget to spend on ads, then why not put together some creative copy to run a lead generation ad on Instagram?
Heck, I would run it both on Instagram and Facebook (which is what Facebook recommends with their placements) when setting up these ads to get more traction.
What I love about Lead Ads is that instead of having the user be directed to a landing page to consider giving up their personal info in exchange for the killer offer, the lead ad will pre-populate their info for them once they hit the learn more button. And if the information looks correct on their end, then they just have to hit the submit button, and they get your killer offer.
Of course, you will want to have this integrated with your email marketing platform as well, so you can send out those nurtured emails immediately after they have downloaded the killer offer, which is something you can do inside the Facebook ads power editor.
Side of caution here, you cannot set up this ad (as of yet) directly from the Instagram mobile app or desktop platform, this can only be done from FB power editor.
Also, with Instagram, last I checked, the only fields that can be pre-populated are full name (or maybe just first name) and email address. Any other info will need to be manually inputted in.
Of course, you want to limit the info you collect here as people do not want to give away more than an email and first name, maybe phone number at the very most up front.
Also, there is an option to create custom drop down questions on Facebook that will show up on the Instagram lead ad as well. I believe you are entitled up to three custom questions, like – what type of service did you want to learn more about? Kitchen renovation, bathroom renovation, or full house renovation?
Also, this is something I am not covering in this episode here, but being able to select the right audience, and having the right ad copy is critical here. This is something I go over in my six-week social media for beginner's course.
So there you have it!
A 5 Step Blueprint to generate leads for your business using Instagram, and how to make this happen.
The first four you can do for free and the fifth one with ads, which can be done right away with money to spend.
If you found this episode helpful, then please do 2 quick things for me
First, be sure to subscribe to my podcast on iTunes or Stitcher Radio and share with your friends. You can even leave me a review on iTunes as well as I release new episodes weekly.
The more reviews I get the more people will be able to discover the show. You can even share this link with your friends, family or colleagues!
Second, be sure to get your free InstaGrowth Guide on Instagram that goes along with this episode. This is your free guide I have put together which is chock-full of excellent Instagram strategies to help you grow your awareness, engagement and leads for your business. 👇
The Top Tips You Need to Achieve InstaGrowth
Success on Instagram
Stay tuned next week as I interview an expert copywriter who shares exclusive strategies and tactics to ensure your email marketing sequence will turn your visitors into customers!
Adios!
Eric
I am super passionate about helping business owners unleash their creative powers to generate leads from social media.
In conjunction with this podcast, I offer freebie resource guides, a popular online course, and consulting packages.
I am also a proud husband and father to three teenage boys - Alvin, Simon, and Theodore (ALVIN!!!) - just kidding, those are their real names.
Oh, and I am a huge Back to the Future fan (Great Scott!) 1955 ->🔥🔥🔥🚘💥💥💥<->1985
You can check out my story here.
Eric