Also Available to Listen/Download in iTunes | Google Play Store | Stitcher Radio | Spotify | And More!
Happy Friday all!
Today's podcast episode comes courtesy to you fresh from me having a pedicure done (my feet feel great)!
This means that the ninja tip I share better be pretty good for a Friday, right?
Well, I do believe this one is, so definitely tune in!
Here is the skinny with what is covered on this mini-episode:
Instagram is getting harder and harder to grow. Unless you have a large community already built on another platform, then you will have to resort to either using paid strategies to grow, or you can do what I do for clients, which is to:
1) Network with people in your niche, or influencers you want to connect with and create niche specific DM groups on Instagram.
2) Participate in engagement groups on the Telegram secure messaging platform.
I perform a combination of both as I explain in this podcast episode, and they work great!
For the first strategy, this works terrifically to help build and grow a community within your niche!
I have created several of these DM groups on Instagram with up to 15 people in them and each time we post to our feed or on IGTV we send the link to the group alerting everyone to like and comment.
This not only helps drive engagement but inside these groups, we establish some good relationships with each other and have fun with some meaningful conversations. I have even referred business to members in some of the groups I created, and I have had people on my podcast from these groups :-)
I explain on the podcast how best to perform your outreach using this strategy.
For the second strategy referencing the engagement groups, this one is focused on joining groups in the Telegram app (a secure messaging app) and following the rules of these bot moderated groups.
Typically, these groups will require you to like and/or like and comment the last several posts before you can drop your post to the group. If you do not follow these rules, then the bots will detect this and you will get warned or banned from the groups.
The plus side with the second strategy is that you will get flooded with engagement, which can help you get to the explore feed on Instagram.
However, the downside is that it can be time-consuming unless you have downloaded a bot to auto like posts for you (there are ones out there).
Another downside of using the engagement groups is that the groups may not be niche specific. So really you are not getting the true authentic engagement like you would for when you create your own niche specific DM groups.
I do a combination of both for myself and clients who are looking to drive up their engagement on Instagram and build relationships with influencers.
How to set up niche specific groups and take part in the engagement groups
To be honest with you, this was not something I learned how to do overnight.
I watched tons of YouTube videos and had to play around with these platforms and strategies on my own until I figured out a good way to do this. It took me almost a month until I felt fully comfortable - and this was after spending hours and hours and hours of my time learning everything.
So, what I am proposing to you is that if you are looking to skyrocket your engagement authentically - meaning you are not buying fake likes - then I'd be more than happy to put together a step-by-step tutorial video showing you how to do this.
Ultimately, these series of videos will save you a TON of time trying to figure all of this out on your own.
Because it will be a significant time investment for me to create the videos for you, I would need to charge a slight fee for you to access everything inside my Teachable account.
Maybe perhaps I could run a one-time special fee of $50, and charge double later down the road for those who do not sign up for the early bird special?
Let me know if you are down or interested as I would love to help you build and grow your network, community, and engagement on Instagram without having to try and figure all of this out for yourself. Or worse, have to pay someone else to do this for you!
Email me here at eric@thecreativemarketingzone.com and let me know if you are down for the awesome videos!
Alright, thanks again for tuning in and I will be back on Tuesday for episode 53 featuring our guest on the show, Brett Snyder, founder of Knucklepuck.
Brett was on my show way back on episode 11 sharing some awesome SEO tips, which is what his agency specializes in. This time around, he is back to share some new tips and insights to be aware of and incorporate for our businesses.
Enjoy your weekend!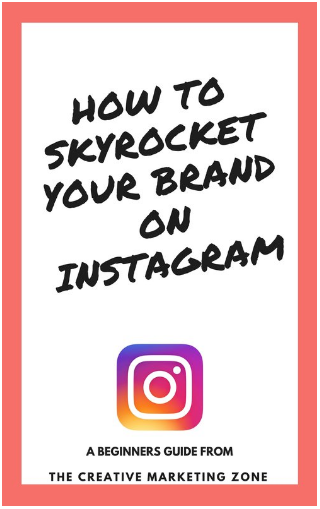 The Top Tips You Need to Achieve InstaGrowth Success On Instagram!
Connect with Me on Social!