Also Available to Listen/Download in iTunes | Google Play Store | Stitcher Radio | Spotify | And More!
Welcome back everyone to another exciting episode of The Creative Marketing Zone Podcast! I am your host and chief creative officer, Eric, and this is the podcast for all things creative to help you build and skyrocket your business!
If this is your first time here, then welcome! I am super thrilled you are here with us today. Be sure to check out awesome episodes previously released and, if you enjoy today's show then be sure to smash that subscribe button – I mean select the subscribe button and be sure to join me on Tuesday's and Friday's each week.
Tuesday's is when we release an awesome interview with a marketing guru sharing his or her ninja secrets for you to use, and on Friday's is when I do a quick solo episode on something new I have learned that works, doesn't work, or some creative marketing advice to help you build and grow your business.
Today's episode is going to be an awesome one for sure! I am going to be going over a simple 3-step DIY formula to rapidly grow your email list. So let's go ahead and get started!
Okay, guys, so we have been on an email marketing series these past few episodes, and for all good reason!
As I've talked about extensively before, I am all about getting your target audience off of social media and onto your email list. For this is where the true magic happens (e.g. more sales, more traffic to your website, greater relationship building, etc.).
We can't control what happens on social media with changes happening as we speak. However, we can control what goes on with our email lists and the messages we are sending out.
On episode 56 I talked about the top 5 Lead Magnets to use to build and grow your email list. A good lead magnet is step one to entice your target audience to want to give up his or her personal information in exchange for something of value.
And in episode 57 I interviewed Chantl Martin, co-founder of Thrive Lounge who shared some exclusive ninja tips to create good content for your emails being sent out.
Now, I am a simple guy, and I like things simple in my life. If you walk into my apartment you would probably think that I have just moved in.
I don't consider myself to be a minimalist, but I am someone who has learned over the years first hand that having a clutter is detrimental to being creative. You may be thinking, "Okay, Eric, where the heck are you going with this?"
I mention this because when things are cluttered, confusing, or if there are too many moving parts in life or in business, we can't have a clear picture of how everything ties together to drive results.
We need to keep things simple.
SEO, content marketing, social media marketing, social media advertising, email marketing, funnels, lead magnets, these are all terms I am accustomed to hearing on a daily basis. In a perfect world, all of these would work seamlessly together.
But of course, we don't live in a perfect world. And if you are trying to do things on your own currently, then you can find yourself getting stuck in any one of these areas and ultimately deciding to just give up.
So, in order to keep things simple, I want you to think of your target audience and the pain points you solve for them. From here you can think of creative ways to solve their problems with products or services to offer – e.g. consulting packages, individual strategy sessions, workshops, a roadmap, guides, mini-courses, etc. What is the fastest and simplest way for you to connect with your target audience and start getting paid online?
The answer to the last question is to start building an email list and to nurture that list.
For this is the first entry point to have someone get to know you on a deeper and more intimate level outside of the social media noise.
And it is the first point in which your target audience is trusting you. They trust you will deliver something good to them in exchange for their info, and they trust that you will do the right thing with their email from that point on.
Now, to stick to the theme of the episode on how to rapidly grow your email list, I have broken this episode into three (3) simple steps for you:
I'll highlight the steps now, and will go in more depth in just a moment:
Step 1 is to create a good lead magnet, this was covered in episode 56.
Step 2 is to hire a professional copywriter to create ad copy for social media to run an ad
Step 3 is to run a specific ad on social media that I will go over today.
There is also a bonus step I will go over here as well shortly, but for now, I will go over steps two and three here more extensively.
Now, if you seek to hire an agency to do all of this for you, it can be costly depending on who you use. They may have you doing things like producing good video or copy, driving traffic to that video or copy, then run a retargeted ad to the people who already have seen this video (or a certain amount of the video) or copy with your lead magnet.
This is a great strategy to build up a warm email list from social media. And if you have the budget to hire a good agency to do this for you, then certainly use your money on this.
But if you are looking to grow your list rapidly and you don't have a ton of time, resources, or money to implement this retargeted ad strategy, then following this three-step formula is what you need.
Step 2
So, since I covered lead magnets in episode 56, I will dive into step two of this plan, which is to hire a professional copywriter.
I know quite a few good copywriters out there. But there is only one resource that I trust to do an awesome job for a SUPER LOW PRICE with your social media ads. And that is Instant ad copy, which can be found at www.Instantadcopy.com.
For $20 you can have a professional copywriter put together the copy of your Facebook ad. They have other options and add-ons with their services. But for $20, you can literally have someone do the grunt work for you, and they will deliver the results to you in 3-5 business days.
Once you checkout, you will receive a Google Doc questionnaire for you to fill out from Instant Ad Copy. They will ask you things about your business, your target audience, your objective, the lead magnet you are giving away etc. And when they deliver the results, they will share with you a slideshow document that shows you the copy and where the copy should go when setting up your ad on the Facebook ads manager platform.
Alright, so quick recap. Step one is to create your lead magnet (episode 56), and step two is to hire Instant Ad Copy to create the copy for your social media ad.
Step 3
Now step three is to set up and run your Facebook ad.
This is where things can get a little tricky, especially if you are just starting to use Facebook ads, or if you are a novice when it comes to Facebook ads.
However, I am going to break this down to you now by explaining the objective to choose, the audience to go after, images to use, a recommended budget, information to collect from your target audience and how to sync everything up with your email CRM.
If this sounds confusing to you, do not fret as I explain this to you. And if you do require assistance getting this set up after going through this DIY exercise, then certainly let me know by signing up for a free social media strategy session with me here. We can hop on a 30 minute Skype or Zoom video session to get you squared away.
Now, first and foremost, you need to create the ad we are about to run by going into the Facebook ads manager. This is also called the back end of Facebook ads, where all the magic basically happens. The front end of Facebook ads is to simply click on the "boot post" button, or click on a button on your homepage in which Facebook recommends you select to get more engagement or leads for your business.
Don't select this option. Sure it is easy to go through the steps to create this ad using the front end approach, but you won't get the best bang for your buck.
To go to the back end of Facebook ads, simply click on the little down arrow at the top right of Facebook on your web browser. This is where you would normally click to log out, change your settings, etc.
Once you click on the little down arrow, select "Create ads."
From here you will be presented with a screen for you to choose your marketing objective. There are three objectives to choose from with options under each objective. The awareness objective is the cheapest one to go with as you are literally spending money to reach more people or to create more awareness about your brand.
The middle option is the consideration objective. Under consideration you are basically spending money to get your target audience to take some form of action with your copy – e.g. click on the link to go to your website, watch your video, message your business, engage with your post (e.g. like, comment or share), install your app, or give up their info in exchange for something of value – also called a Lead Generation ad. This is the ad set I am going over today to rapidly grow your email list.
The last objective is the conversions objective. This one is a bit more costly as you are seeking to basically convert your audience into sales for your business and drive store visits.
So you will move forward in selecting the Lead Generation option under the consideration objective.
From here you will walk through the steps of naming your campaign and ad set, selecting the Facebook Business page you want this to come from, reviewing and accepting the Facebook Lead ads terms of service, and then you will go through the next series of steps for your audience, ad placements, budget, and schedule.
When you are logged in going through this you will see how everything flows in this exact order. It is not hard to follow at all, and a lot of this is self-explanatory. If you don't know what it means, there is a small exclamation point next to each section in which you can hover your mouse over and Facebook will provide a more detailed explanation.
Now before I go into audience selection, placement and budget, I do want to take a moment and explain why I like using the lead generation option to rapidly grow your email list.
I like running this ad set because it is super seamless from your target audience experience, and it keeps your audience on the Facebook platform, which is what Facebook wants more of.
Traditionally when running an ad to collect email addresses, you would create a landing page on let's say Leadpages or ClickFunnels and you would have to run the ad objective to drive traffic to your landing page under the consideration objective.
From here when someone clicks on the button to learn more from your ad on Facebook he or she would be taken off of Facebook and onto your landing page in which they would see a bunch of content and maybe even a video seeking to collect info in exchange for your valuable lead magnet.
This approach does not work too well with a cold audience who has never seen you before, especially since they now have to think about inputting their first name and email address manually.
The lead generation ad solves this problem. When your target audience clicks on the learn more button from your ad, a popup box will appear in which their info, which is info Facebook has already collected from third-party platforms, is pre-populated into the first name and email address field. They don't have to manually input their info, or think about giving up their info, they just need to verify that the info that was pre-populated is accurate – and that's it!
Then once they hit the submit button, a final screen on what to expect next will appear and the lead magnet will be delivered to their email inbox automatically if you have this ad synced up with your email CRM platform, such as MailChimp.
There is also a screen at the beginning before your target audience's info is pre-populated, and this screen is basically a more in-depth explanation of your lead magnet, which is an optional screen to have in place. I do recommend having this screen with a few bullet points explaining the transformational results (not features of your lead magnet) your target audience will achieve by obtaining and implementing what you are providing from your lead magnet.
Ultimately, you are able to collect more email addresses from your target audience using this ad set is what it all boils down to.
Now the next part is audience selection.
This is where things can get a bit dicey, and if you ask marketers who specialize in Facebook ads you may get conflicting advice.
What interests to include, what to exclude, demographics, behaviors, etc. Yes, you can get super granular.
I once ran an ad set for a youth soccer coach seeking to drive registrations for summer camps for 2-5-year-olds, and we were able to target soccer moms and dads in the local area. In the real estate or home remodeling realm, you can target people who are interested in home ownership and have an interest in HGTV in your local area.
If you have an email list of at least 1,000 contacts, or you already get a ton of traffic to your website you can even create a custom look-a-like audience to go after an audience that has similar characteristics to the emails you have already collected or traffic you are already receiving.
However, if you are new to email list building and you are still tuned in, then chances are you do not have a large email list on file. This is why I am going to share this secret ninja hack on how to go after your target audience using relevant audience criteria.
This ninja hack comes courtesy from Rick Mulready of The Art of Paid Traffic Podcast. Rick runs a successful Facebook ads agency and each week he shares awesome strategies and tactics on his show on how you can build, grow and scale your business using Facebook ads.
I like to think of this hack as the old school Wendy's fast food chain approach to opening up new restaurants. Wendy's did not have the same marketing budget as their much larger rival McDonald's.
McDonald's would spend a ton of money and resources researching to find out where the next location should be built whereas Wendy's approach was simple – just build next to McDonald's.
What's the moral of the story? It's simple - why recreate the wheel and play a guessing game about your target audience on social media when you can literally just use information that is already out there from your competitors, which in many cases is already being marketed to you on Facebook.
What do I mean?
If you go to your Facebook news feed right now and start to scroll, by like the third or fourth post you will see an ad that is hopefully relevant to you. When you see this ad, click on the three little dots at the top right corner of this post and select the option that says, "Why am I seeing this ad?"
When you select this you will be shown a screen that indicates the targeting features that were used in this ad copy to reach you.
If this is a good ad, then simply jot down what you see here into an Evernote doc and begin compiling a list. You can now use this for your audience criteria or test out different ad sets using different features from successful ads already being marketed to you.
Basically, you are taking what is already working and leveraging this for your ad. Super cool, right? This is why you are tuned in each week to learn some of these awesome creative tips.
Now, I would try to keep your audience selection criteria to a minimum. If you start adding in a bunch of stuff to include and exclude, then you will begin to see the meter on the far right screen go down, which will indicate to you that your audience size is getting smaller and smaller.
I would say a good audience size is to be somewhere in the neighborhood of 500k – 1.5 million. If your audience is too narrow, your ad will reach its audience quick, and your audience will start to see your ad too frequently, which isn't a good thing. Facebook may even begin to stop showing your ad altogether.
Now the next section is the ad placement. Facebook will default to what they recommend, which may include the Instagram feed and Instagram Stories. I actually recommend selecting the button to edit the placements so that your ad is shown on the Facebook desktop and mobile feeds and deselect the remaining options. You can keep Instagram feed in the selection, but Instagram Stories is definitely out the question for this ad set as of right now.
The next section is your budget and schedule. Here I would recommend doing a lifetime budget versus a daily budget and set an end date to be no less than seven days and no more than 30 days. These are just my recommendations based on experience running these ads to help you get better results.
In terms of budget, the very least you can spend is $1 per day. However, do keep in mind that the more you spend, the more people you will reach. If you are trying to rapidly grow an email list in 30 days or less, then I would recommend spending no less than $300.
And a good number conversion wise is to be at or around $0.30 or less cost per lead, or cost per email.
Once you input your budget and schedule, next you will input your ad creative. Your Instant Ad Copy will go here with the copy. But you will still need to select a good image or carousel of images. You can also do a video, but for sake of time – I would use a single image for your ad to keep things simple to start with. Eventually, you will begin using other options.
Some things to keep in mind with the image - you want to use something that may or may not be relevant (I will cover this shortly), does not have a ton of text (the less text the better), and does not look like a stock image.
Basically, you want to get your target audience to stop in their tracks and click on the learn more button with your ad.
Sometimes the image may not even be relevant to the ad copy – for instance, I recently ran an ad using an image of fruit wearing sunglasses to get people to stop. I had a simple quote that was relevant on the image and it worked to get people to stop and consider giving up their info.
Facebook does have an option, last I checked, for you to seek images for your ad – I believe this is coming from Shutterstock or Shutterfly.
However, if you don't want to pay for an image, you can create something for free in Canva using the recommended dimensions and a good template, or you can find images on Unsplash, Pixabay or Pexels – not Google images!
The final step before running this ad is to create the lead form, which is basically the data you want to collect. I recommend the first name and email address and that is it – the more you try to collect the less you will receive.
There is also an important section for you to complete under privacy in which you need to copy and paste the link on your website that details your privacy policy. This is critical, especially in today's day-and-age when data collection, privacy, and GDPR comes into play.
Once you are done with everything you can review your choices and hit the button to run the ad. Once you do this, the final screen will recommend you sync up your email CRM platform, which I do highly recommend doing this to have your lead magnet automatically sent out via email and any future automated emails you have set up for this list as well.
I know I get cracked on a lot, but I still use MailChimp, and this is a great platform to get started on for free with your email CRM. And MailChimp is one of the options to sync up your lead generation ad here on this screen as well.
If you don't sync up your lead ad with your email CRM, then you will have to manually download the leads when you go into the manage ads section of Facebook ads manager and upload to your CRM. This is a big time waster when you can literally click on a few buttons to sync everything up.
Of course, I should also mention that you should have your list with your first welcome or automated email going out to deliver your lead magnet already set in place. When you go through the steps here on Facebook to sync up your lead ad with MailChimp, you will see the option to select the list you want your leads to end up in.
So that's the 3-step plan folks.
Develop your lead magnet, hire instant ad copy, and run your lead generation ad.
Bonus Tip
Now, I promised you at the beginning of this episode a bonus tip. This is a bonus tip I recommend doing while your ad is running, which is to spread your lead magnet message without paying for ads on social media.
Update links on your bio sections, create content (e.g. blog posts, podcast episodes or even videos) centered around your lead magnet and focus on driving traffic to this content, go on other people's podcasts or platforms and put in a plug for people to take advantage of this awesome resource. There are many ways you can creatively promote your lead magnet while this ad is being run so you can rapidly grow your email list.
If you want me to do a separate episode on this then let me know as I'd be more than happy to share creative ways to go about promoting your lead magnet while your lead generation ad is running.
Alright everyone, thank you for tuning in today and don't forget to set your calendar reminder to Tuesday when we release our next featured interview. And if you have yet to leave a review of this show on iTunes or Apple Podcasts, then certainly do so. Smash that subscribe button, leave a review and let me know once you have done so – I will be sure to give you an awesome shout-out!
Bye for now!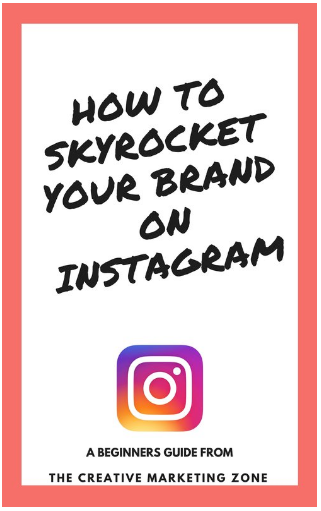 The top tips you need to achieve InstaGrowth success on Instagram!