Also Available to Listen/Download in iTunes | Google Play Store | Stitcher Radio | Spotify | And More!
Welcome back to another exciting episode of The Creative Marketing Zone Podcast! I am your host and chief creative officer, Eric, and this week I am thrilled to bring on Jeff Teschke, Founder and CEO of Forge3, Ltd, an award-winning digital agency and training company offering proven, cost-effective website and digital marketing solutions for insurance agencies, carriers, and associations.
You can learn more info about Forge3 and what the awesome team is up to at Forge3.com. This is where you can discover more about their powerful training programs, social media campaigns and purpose-built website platforms including ActiveAgency, Clickable Coverage, Hello Producer and more.
On today's episode with Jeff, we get to learn more about the importance of why niching down can be a game-changer for your business.
Jeff definitely knows a thing or two on this topic from experience. He started his company over 14 years ago in which the firm was more of a generalist in terms of the marketing solutions he was offering at the time. Things, however, changed for the better when he began to focus more on working with clients operating in the insurance realm.
Jeff has a very fascinating story, which ultimately led him to where he is today running a full-fledged digital marketing agency with team members working remotely throughout the U.S.
Before starting his agency, he worked as the Director of Product Management for a software and consulting company that worked with top brands such as, The Coca-Cola Company, AT&T, Intel, Northrop Grumman, Kaiser Permanente, and others.
While working in this position, he recognized an opportunity in the mobile marketing industry and created the award-winning ispott™ mobile scavenger hunt gaming platform. Within its first month of operation, ispott™ earned the attention of Microsoft and Coca-Cola and successfully powered the world's first mobile scavenger hunt game for the Sprite brand.
I really enjoyed hearing more from Jeff about his storied journey to get to where he is today, starting from his hometown in Pittsburgh, PA, along with how he got into doing digital media work for clients operating in the insurance industry.
As you will hear me mention later on in the show, typically I stay away from working in certain verticals, such as insurance, legal, healthcare, and accounting. But for Jeff and the Forge3 team, the insurance realm is their niche. Jeff knows the lingo, the products, and the insurance market as he grew up in a household in which his dad worked for many years with large insurance companies.
Jeff also talks about his aha moment when deciding to go off on his own and start his company, which happened at a time when he was laid off and was collecting unemployment. So much is covered on this episode and I cannot wait for you to tune in.
Now, if this is your first time tuning in to the awesomeness of this show, then welcome – I am super thrilled you are here! On Tuesday's I release an interview with a marketing guru sharing his or her ninja secrets to help you up your marketing game and grow your business, and on Friday's I share a solo episode on something new I have learned that works, doesn't work, or some general marketing tips.
And if you are a repeat listening friend of the show, then welcome back! I am super ecstatic that you have chosen me to share some awesome marketing tips in your ear each week wherever you are. As you know this podcast keeps getting better and better each week as we avoid the fluff.
If you haven't done so yet, then be sure to smash that subscribe button on your podcast listening player for The Creative Marketing Zone Podcast, tune in to fresh content published weekly, share with your friends, and – if you are up to it - leave a review on iTunes or Apple Podcasts!
As you know, reviews mean a lot, and they help me reach more fans eager to implement these marketing tips shared weekly. And if you leave a review on iTunes or Apple Podcasts then let me know by emailing me at Eric@TheCreativeMarketingZone.com.
I will provide an awesome shout out for you in return.
Speaking of shout outs, something new I am starting to do now is to share a recent review of the show.
And this review comes from Deri on the go in which Deri states:
I LOVE this podcast! Eric brings on marketing experts from all different industries. They each bring a unique perspective and offer insight that any business owner or marketer can use!! Easy and fun listen!!! - Deri on the go
Thanks so much for the awesome review Deri on the go and this is definitely another great interview to tune into today that falls right in line with providing services for different industries.
Speaking of the interview, it's time for us to jump in and get Jeff on the show!
Alright everyone, so, without further ado, here's Jeff!
Tune in Below: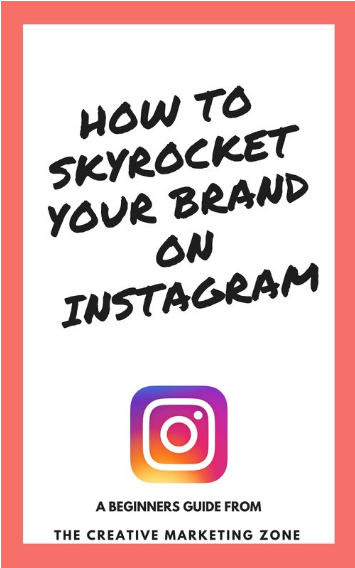 The top tips you need to achieveInstaGrowth success on Instagram!