Also Available to Listen/Download in iTunes | Google Play Store | Stitcher Radio | Spotify | And More!
Well hello there – welcome to another exciting episode of The Creative Marketing Zone Podcast! I am your host and chief creative officer Eric, and this week's featured guest on the show is Naomi Lantzman, a digital marketing consultant in the Tampa Florida area working with businesses to help them grow and non-profits to help them raise more dough (hey that rhymes)!
Naomi delivers awesome results through custom digital marketing strategies and implementation. She has worked in communications and marketing at a large non-profit organization, as a Chief Technical Officer at a web development and public relations firm, and co-founded Signify Studio, a boutique graphic and web design company with her husband, Jared.
Naomi and Jared have also developed My Jewish Website and Online Fundraising Strategy together, which concentrates on building delightful, conversion-focused customer and donor journeys for niche audiences to take specific actions on websites.
Naomi is also the host of the Grow Your Non-Profit Podcast, which helps non-profits learn about digital marketing so they can improve their online fundraising without tech overwhelm or marketing hype.
Today, Naomi has joined us to discuss the importance of adaptive messaging in your marketing. She will explain what adaptive messaging is all about, how we as marketers can use this type of messaging to attract and go after the right type of clients, and so much more.
As you know, understanding your audience is a must. So how do you hone in those needs? How do you evaluate data and set up interactions to get a response? Naomi will cover this today as she definitely has the experience using this strategy for businesses and non-profits, and she has taught over 100 courses in marketing and design.
Now, if this is your first time tuning in to the awesomeness of this show, then welcome – I am super thrilled you are here! On Tuesday's I release an interview with a marketing guru sharing his or her ninja secrets to help you up your marketing game and grow your business, and on Friday's I share a solo episode on something new I have learned that works, doesn't work, or some general marketing tips.
And if you are a repeat listening friend of the show, then welcome back! I am super ecstatic that you have chosen me to share some awesome marketing tips in your ear each week wherever you are. As you know this podcast keeps getting better and better each week as we avoid the fluff.
If you haven't done so yet, then be sure to smash that subscribe button on your podcast listening player for The Creative Marketing Zone Podcast, tune in to fresh content published weekly, share with your friends, and – if you are up to it - leave a review on iTunes or Apple Podcasts!
As you know, reviews mean a lot, and they help me reach more fans eager to implement these marketing tips shared weekly. And if you leave a review on iTunes or Apple Podcasts then let me know by emailing me at Eric@TheCreativeMarketingZone.com.
I will provide an awesome shout out for you in return.
Speaking of shout outs, something new I am starting to do now is to share a recent review of the show.
And this review comes from Marketing Fun with Mike in which he states:
"Eric puts together tangible business advice and tips from people who do the work each and every day. He's also engaging and energetic and finds guests who are as well."
That's awesome, Marketing Fun With Mike – thanks so much. Funny thing about Mike now that I am reading this is that he has been on The Creative Marketing Zone Podcast twice – episodes 22 and 10 - and his review was not solicited.
Mike and I have actually been friends for several years now and we have never met in person. However, that is about to change as I am super duper excited to hang out with him and his wife in early October as we will be going to – duh to dah duh – Lewis Howe's Summit of Greatness in Columbus Ohio! I am also going to crash at Mikes home as well, so maybe we can do a fun in-person podcast while I am there as I know I will be capturing a ton from my trip to Lewis' exciting annual event – more to come on this.
So if you have an event in your area and you want me to crash at your residence then holla at me – I think it would be awesome to connect in person and learn some cool marketing strategies and tactics together and hang out of course.
Alright, so guys, we have an interview to conduct, don't we! Let's go ahead and welcome Naomi to the show!
Tune in Below: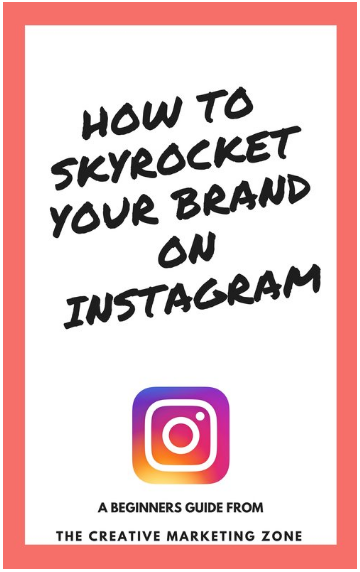 The top tips you need to achieveInstaGrowth success on Instagram!